Pan Module
for JibONE
Motorized single-axis panning solution that can be attached to edelkrone JibONE, edelkrone Sliders & Dollies, and tripods. Achieve an unlimited JibONE experience or ultimate panning ability for heavier camera setups.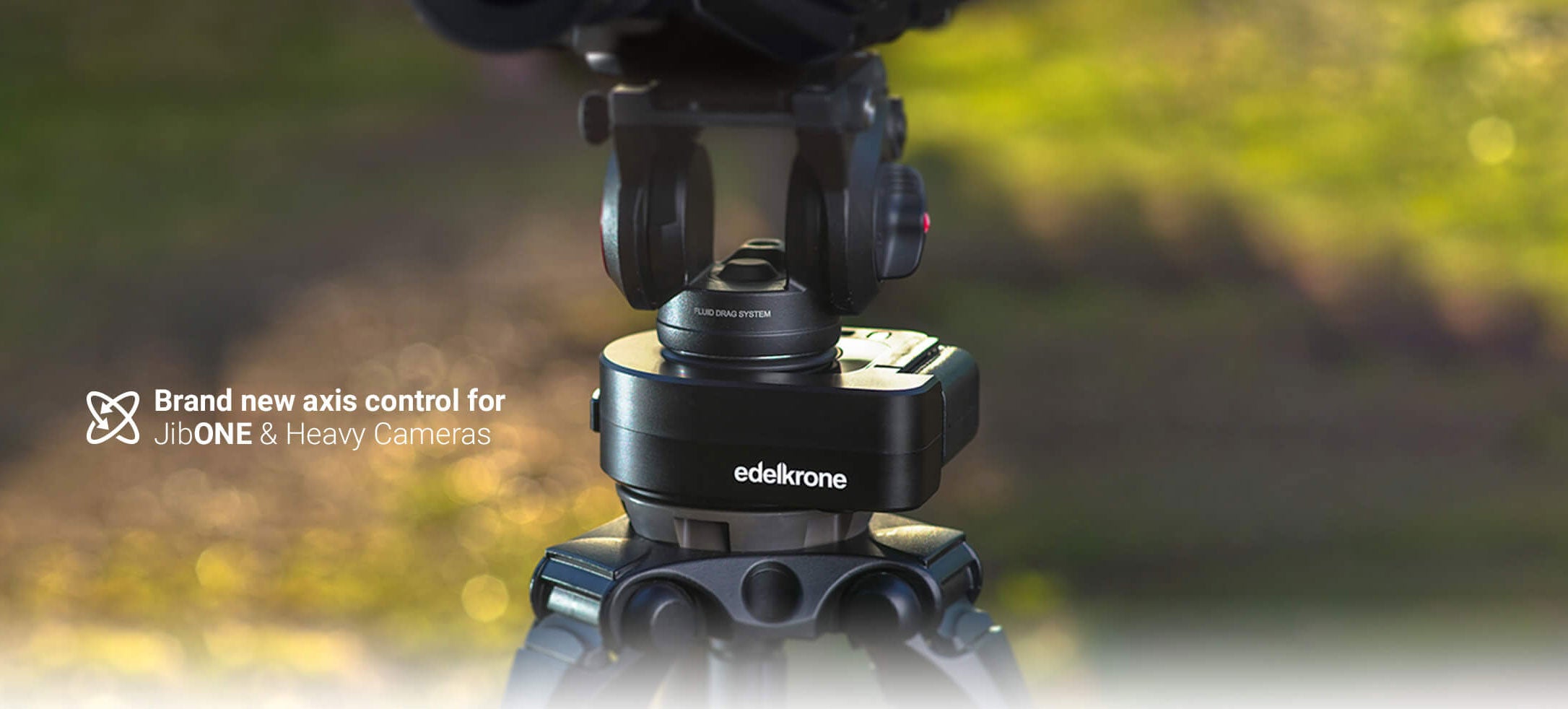 Box Contents
Pan Module, AC/DC Adapter, Allen key.
Size
(W x D x H) 4.33 x 5.31 x 2.36 in (110 x 135 x 60 mm)
Mounting options
3/8"-16 mounting port on bottom, 3/8"-16 mounting screw on camera plate
Recommended maximum setup load
30 lb / 13.5 kg or less (Jib + Head + Camera + 4 kg Counterbalance weights)
Max. speed
5 degree/sec when used with JibONE
Additional features
Safety lock, Instant feedback screen
Motor type
Step motor with ultra high-res encoder
Power input
x1 LP-E6 type battery (battery NOT included) or DC Adapter (Does not charge batteries)
Battery life
With x1 Canon LP-E6 battery (14.4 Wh) Operates 6 hours (continuously at full speed)
Can be controlled via
edelkrone App, Controller for edelkrone Moco
Mobile device connection
2.4 GHz direct link for inter-device communication and BLE for pairing / mobile phone connection
App. compatibility
iOS 11.0 or later & Android 5.0 or later
Materials
CNC machined aluminum and stainless steel components.
DC plug specs
Voltage input: 100-240V, Voltage out: 9.0V, Current output: 2.2A, Polarization: positive center, Output connector: Barrel plug, 2.1 mm I.D. x 5.5 mm O.D x 9.5 mm
Features that will separate you from the crowd
Can be hand-controlled
You can manually adjust the pan angle with Pan PRO. Instead of relying on a remote control, you can program your camera motions with just your hands! This gives an unprecedented speed to your workflow, and makes the whole process much more intuitive.
High carrying capacity, compact design
Pan PRO is capable of carrying heavy professional cameras, as well as the entire JibONE setup. Similar to all edelkrone products, Pan PRO features a portable, compact design.
Unlock a new axis for a full JibONE experience
Pan PRO is an add-on to the jib solution, designed to add a panning axis to JibONE. Simply attach Pan PRO between your tripod and JibONE to unlock this new axis. Add HeadPLUS to this bundle and obtain an unlimited motorized jib experience. (Only a single Pan PRO can be paired with this bundle.)
Fast to set up - easy to relocate
No tools or assembly required. Needs only a few minutes of set up for quick filming and scene changes. Pan PRO has a locking mechanism to lock it in place securely so you don't need to disassemble the system to relocate it. (We do not recommend this method when relocating the system long distances.)
Macro-precise, loopable motion
Pan PRO provides the necessary smoothness for macro shots and perfect, steady speed control when panning thanks to a backlash-free mechanical design.
Perfect for visual effects
Pan PRO can repeat any motion perfectly. Add some masking magic using your favorite video editing software and "wow" your audience in no time!
Connects wirelessly to JibONE, edelkrone Sliders & Dollies
As the newest member of the edelkrone ecosystem, Pan PRO is a heavy-duty, pan head solution designed to work perfectly with JibONE, edelkrone Sliders, and Dollies. The devices pair instantly in the background and can be managed altogether using the edelkrone App or edelkrone Controller. This instant connection allows you to quickly automate and program the most creative camera motions with ease. (Only a single Pan PRO can be paired with JibONE at a time.)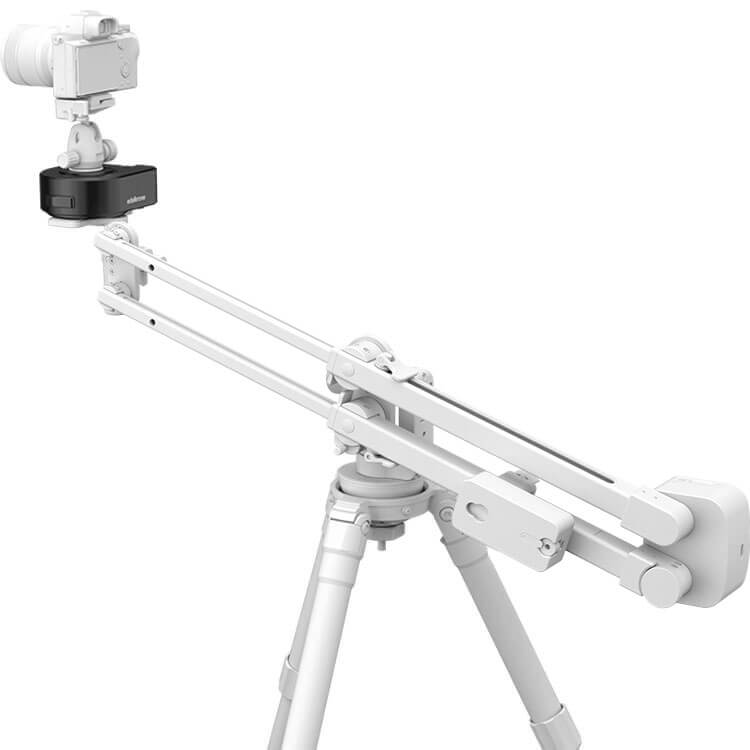 Camera Panning
Attach a single Pan PRO over JibONE for motorized camera panning motion. Carries camera setups of up to 30 lb. Only a single Pan PRO can be paired with JibONE at a time.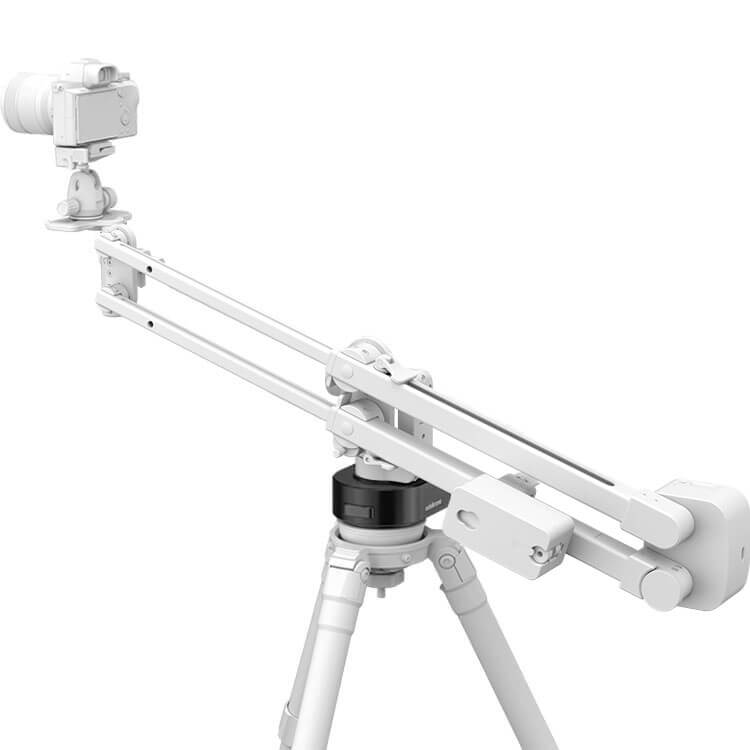 Jib Panning
Attach a single Pan PRO under JibONE for motorized jib panning motion for the entire JibONE setup. Only a single Pan PRO can be paired with JibONE at a time.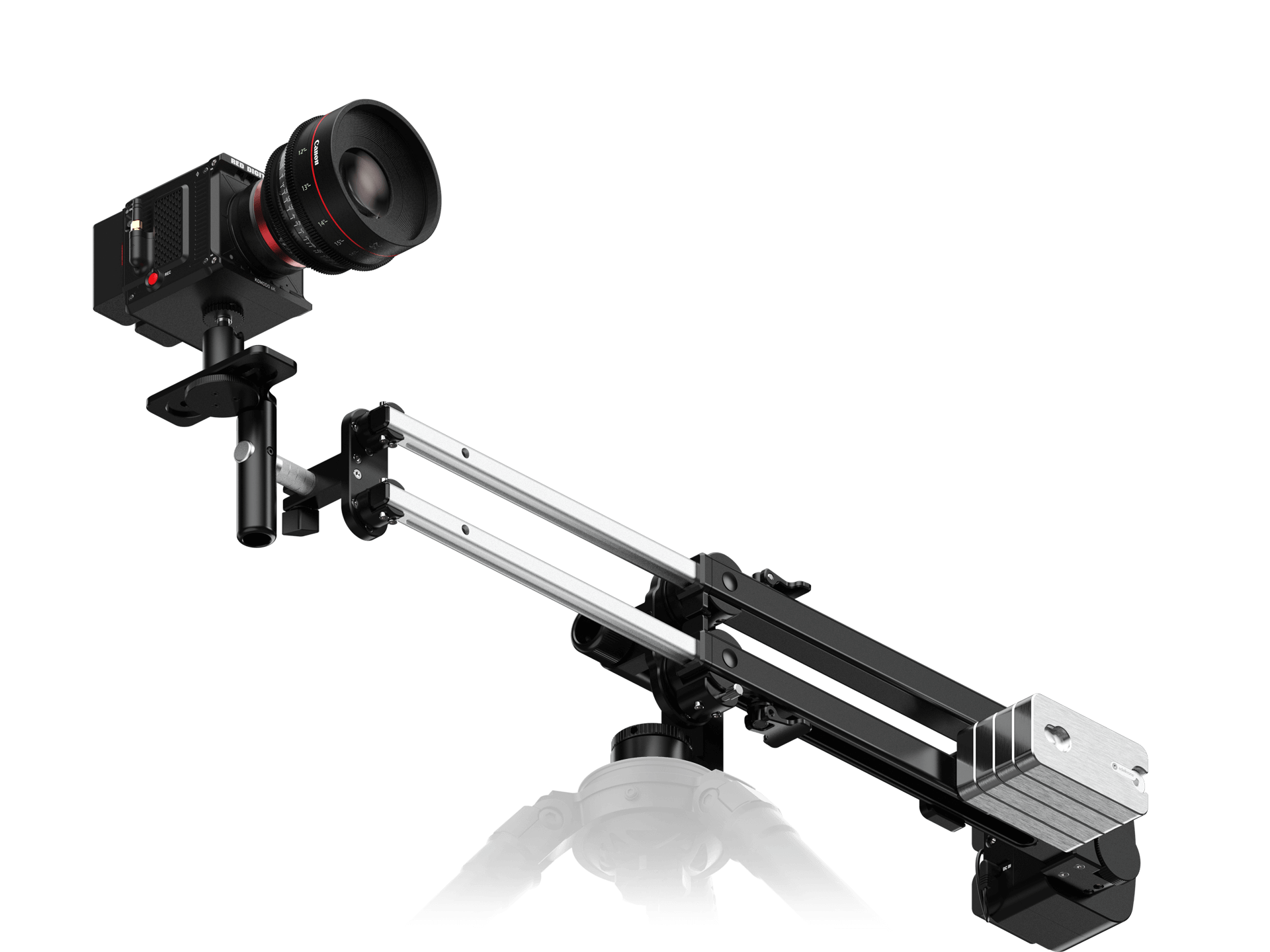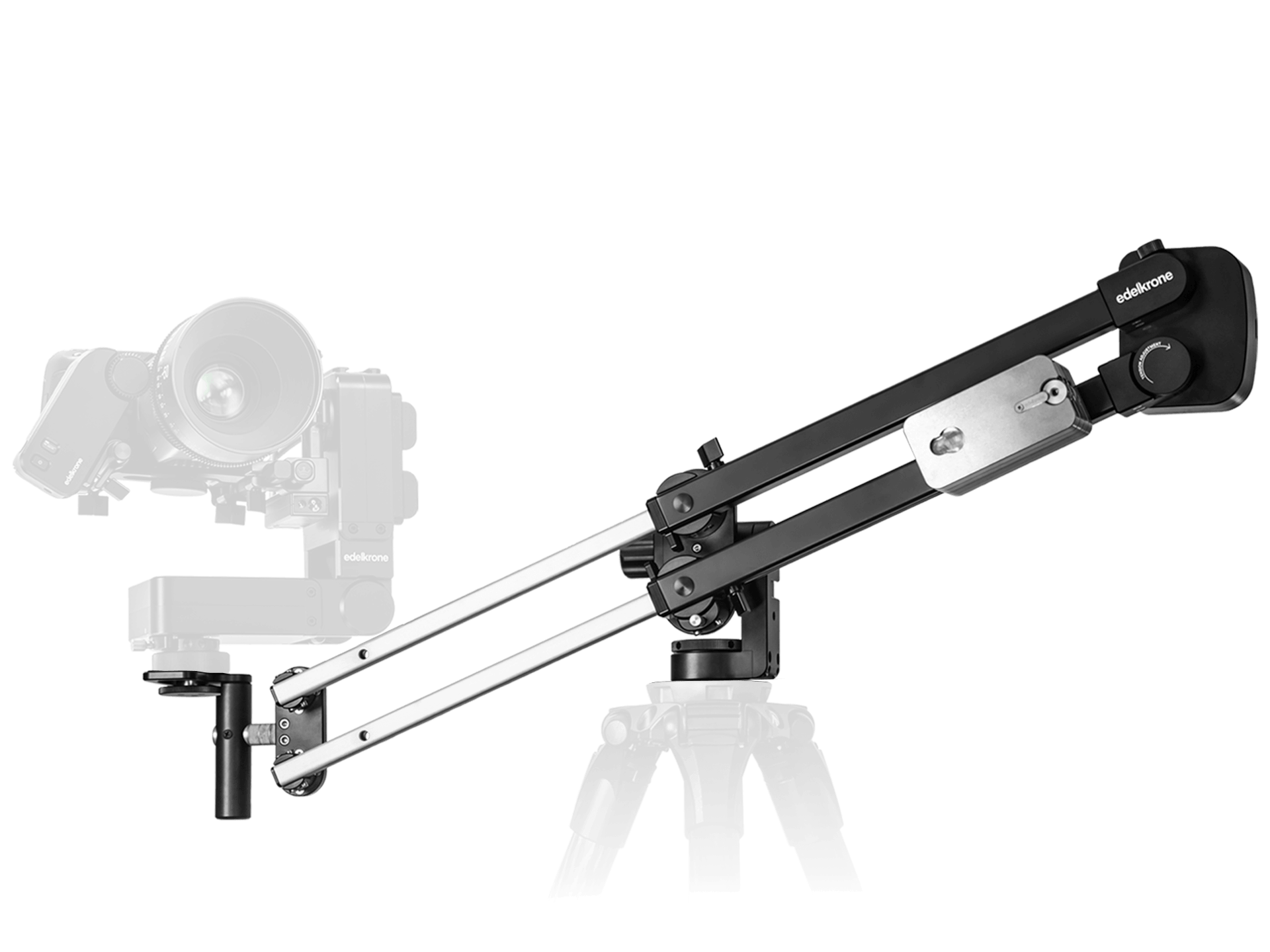 JibONE
---
JibONE is a new way to approach camera jibs. With a compact and motorized design, JibONE has created a new category of portable and motorized jibs.
The system delivers 50 cm of motion in any direction, making it suitable for most productions.
Despite its motorized capabilities, JibONE can also be controlled manually, allowing you to program camera movements instantly. It's the easiest to use programmable camera jib available.
JibONE is strong enough to lift heavy camera equipment, including a DSLR with a HeadPLUS, and operates silently, making it ideal for product videography, interviews, and live video production.
The system can be extended with add-ons like the Pan Module, transforming it into a 2-axis camera motion control solution. The pan module can be both motorized and manually controlled for fast positioning and programming.
JibONE also communicates with HeadONE and HeadPLUS, offering the possibility to upgrade to a 5-axis motion control solution.
With advanced features at an affordable price, JibONE is a unique and unmatched solution in the market.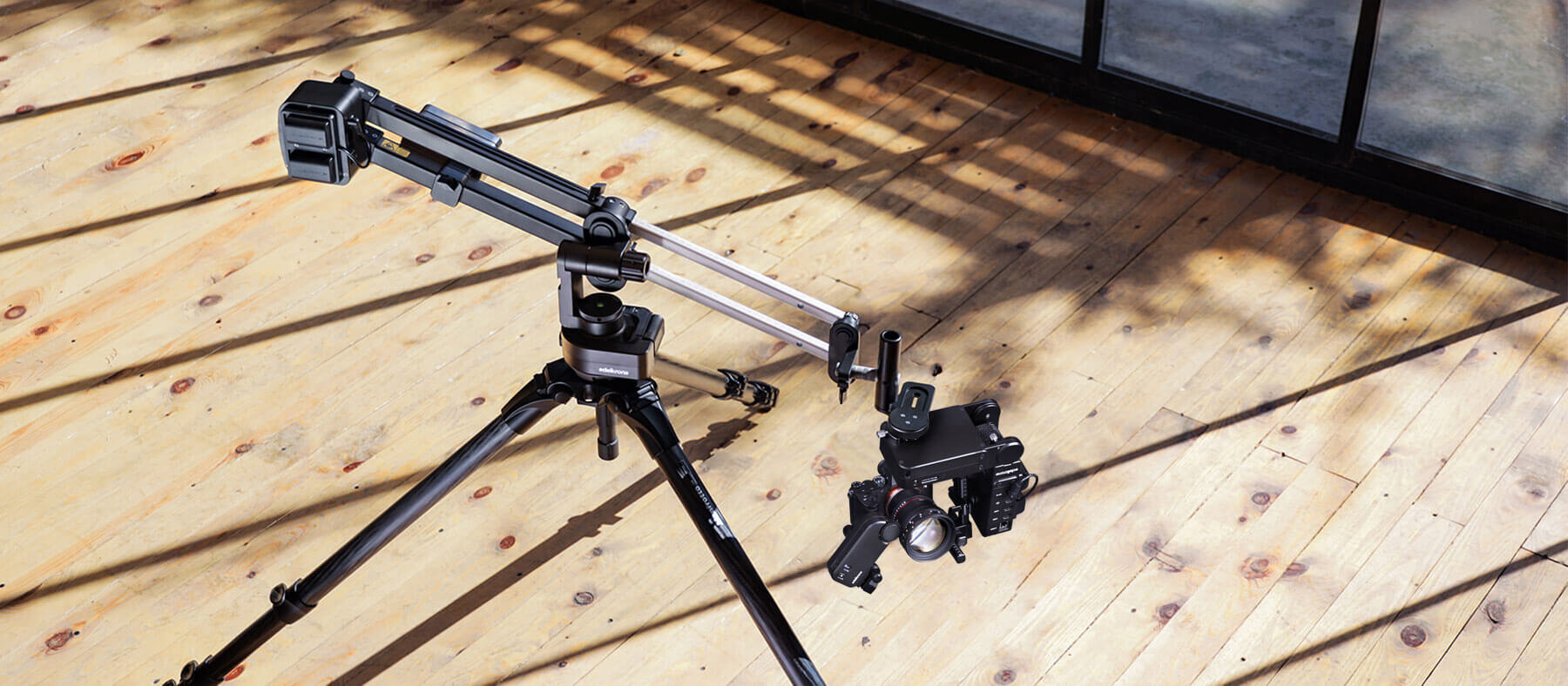 Nail that perfect shot every time
Let the App do the work
Automatic Target Tracking
Pan PRO can learn 3 different targets & can keep any of them in the frame even when it's moving on JibONE, Sliders or Dollies. With this automatic feature, you can achieve elegant parallax shots without spending any time programming the system.
Live Target Switching
You can make a smooth transition between any of the three preset targets by selecting your desired target. During each transition, Pan PRO elegantly frames the new target. When paired with JibONE, Pan PRO(when panning jib), HeadPLUS and Focus Module, Pan PRO keeps the target in frame while the camera moves.
Instant Target Learning
If you are using Pan PRO as a panning head on Sliders and Dollies, you can teach the position of any stationary target to the system instantly. Just aim on the target and move the axis to a new position then press OK. The camera will instantly frame and focus on the target.
Sequencer feature
With Sequencer feature, you can chain multiple poses one after another to create complex camera motion. Transition speed between every pose is independently adjustable. Also, you can make it loop so that the system goes back and forth in the given order.
▼
Controlling Options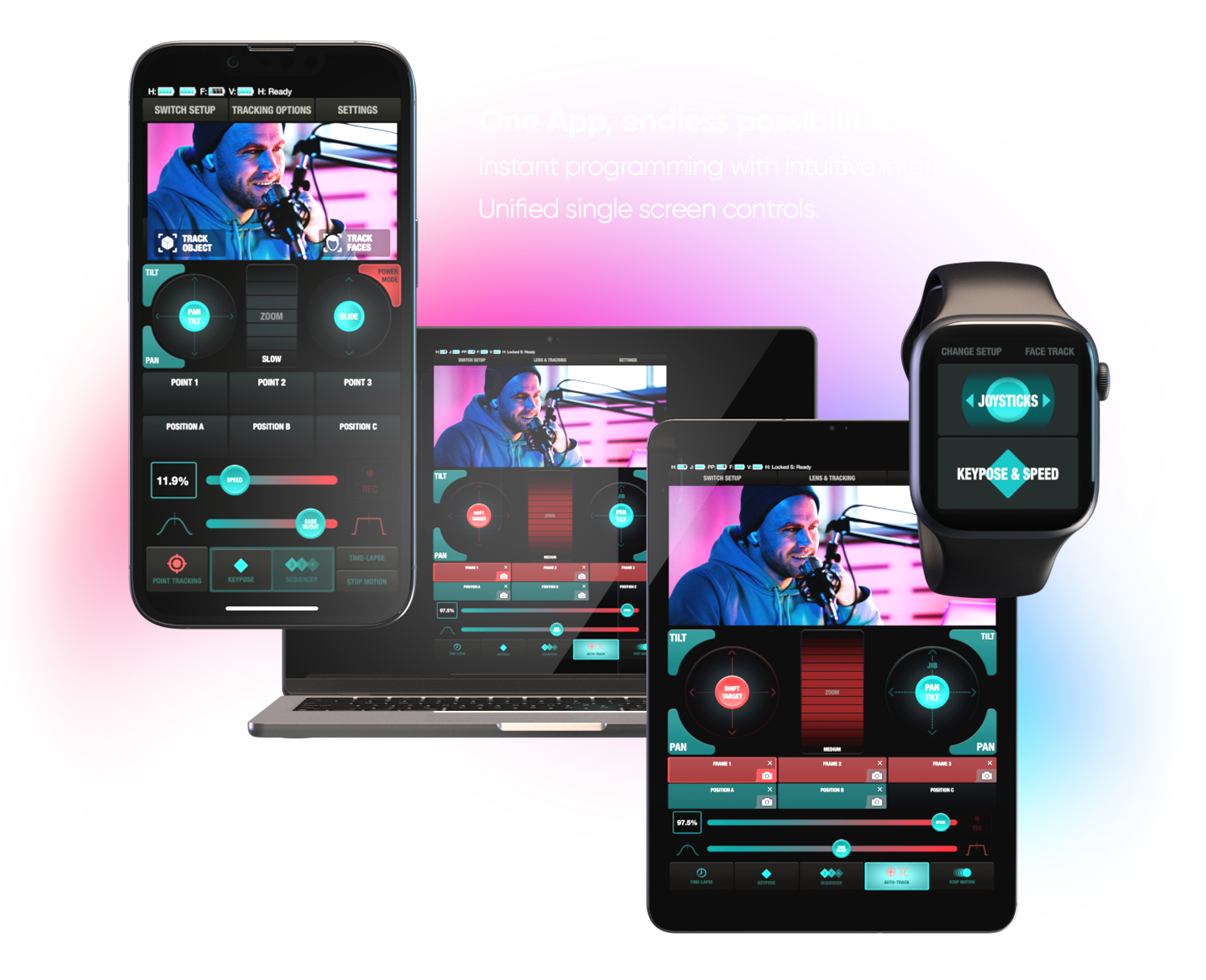 edelkrone App
The edelkrone App stands out as a comprehensive and intuitive control platform, designed to seamlessly and wirelessly control all edelkrone devices from both Apple and Android devices. Learn More.
More Options?
Beyond the edelkrone App's wireless capabilities, did you know that there are diverse ways to control and integrate your edelkrone devices? Whether through custom software, wired connections, or third-party integrations, there's so much more to explore. Learn More.
Pan Module for JibONE